「MIYAMOTO GIKEN (THAILAND) CO., LTD」
  is Producing Specialized Machines with High Precision & Advanced Functions.
Reliable "MIYAMOTO QUALITY" expands to Thailand, and aims to the All Over the World.
Thailand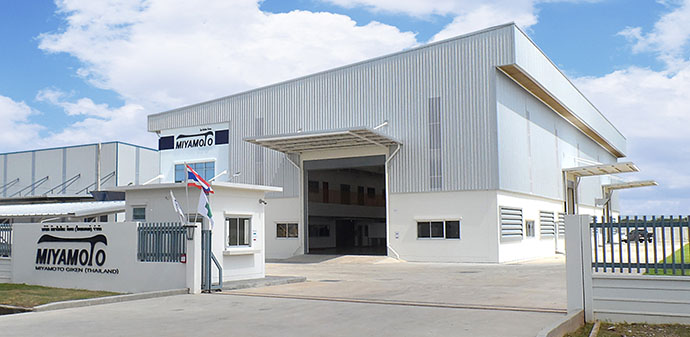 ■MIYAMOTO's Advantage of Performing All Processes In-house
The Asian market has been growing rapidly and now even leads the world economy. Especially Thailand, now it plays an important role in such Asian Market. It is a great country for investment, in terms of infrastructure, human resources and location as World Hub. Hence MIYAMOTO GIKEN THAILAND (MGT) was established in April 2013. All processes of making specialized machine, ranging from development and design to manufacture, assembly and maintenance, can be done in MGT.
■Establishing New Plant and Aiming Further Expansion of Business.
MIYAMOTO GIKEN THAILAND is fully supported by MIYAMOTO MACHINE-TOOL INDUSTRY CO., LTD (MGK) MGK was established in 1982 and is located in Hamamatsu City, Shizuoka where has a world heritage of Mt Fuji. MGK has solid reputation of "MIYAMOTO QUALITY" based on "MADE-IN-JAPAN-SKILLS" among Japanese Industrial Sectors for over 30 years. By cooperating with such MIYAMOTO JAPAN, MIYAMOTO THAILAND is able to offer various services of specialized machines from the global point of view. Since MIYAMOTO GIKEN (THAILAND) was established in 2013, it has been firmly accumulating business achievement till it established a New Plant in September 2016. MGT is still growing and its future potential is very much high.
■Motto:「Manufacturing from the customer's standpoint,
      maximizing unique ideas and comprehensive capabilities」
Based on Japanese Technology, MGK aims business growth in Thailand and further expansion to all over the world. MGT is expanding its business with the motto of "Manufacturing from the customer's standpoint, maximizing unique ideas and comprehensive capabilities". It shall also lead further development of Asian Market. By collaborate and cooperate with MIYAMOTO JAPAN, MIYAMOTO GIKEN THAILAND will meet Japanese customers requirement and provide quick & flexible service and response. You can expect MGT machines with high precision, advanced functions, excellent durability and ease of maintenance. MGT is also capable to export its machines to Asian major countries such as Indonesia, Malaysia and Singapore. If you have any needs in your overseas site, you can also contact us.

Company outline
Name

MIYAMOTO GIKEN (THAILAND) Co.,Ltd

Location

88/21 Moo 3 T. Khlongsuan
A. Bang Bo Samutprakarn 10560 THAILAND
Tel +66(0)2-136-9639 Fax+66(0)2-136-9638


Date of
stablishment

March 2013

President

Masato Miyamoto

Capital

10,000,000THB

Number of
employees

17

Business
line


Design and manufacture of specialized machines
(dedicated machining tools, assembling machines,
measuring instruments, etc.), jig/tool handling
robot systems, stockers, automatic roughage feed
equipment, conveyors, transport equipment,
broaching machines, thread rolling machines, and
others

Banks


KASIKORN BANK 

Company-owned facilities
SERFACE GRINDING M/C WELDING CO2 (CS)
CNC M/C (ROBODRILL) WELDING ELECTRIC (ARC)
NC MILLING M/C SAW ELECTRIC (CY275A)
(YZ400NCR) AIR COMPRESSOR
MILLING M/C (YZ8C) (OSP11M5ANA)
BAND SAWING (NCC-300) AIR DRYER (ORION ARX20J)
LATHE (BL-5105-850) OVERHEAD CRANE 2ton
DRILLING x 2units OVERHEAD CRANE 3ton x
SPRAY BOOTH 2units

Customers and Delivery record
Aisin Thai Automotive Casting Co.,Ltd.

Leak test machine for timing chain cover
Oilpan leak test machine
Oilpan union and plug fastening machine
Oilpan plug press-fit machine
Oilpan pin press-fit, filter assembling machine
Case assy bearing & caulking m/c
Heating machine
Bearing & mechanical seal press machine
Bearing caulking machine
Pully & rotor press machine
Pulley pull out check machine
Pulley run out check machine
W/p assembly leak test machine
Casted surface leak test machine

ADVICS Manufacturing
(Thailand) Co.,Ltd.

Leak test machine for d/b

DENSO (THAILAND) Co.,Ltd.

Brushing machine
Tube shaft bush press machine

DAISIN Co.,Ltd.

Leak test jig for retainer oil seal

GKN Driveline (Thailand) LTD. (AWD)

C/f whirl stop jig
Differential carrier outline assembly leak test machine

Honda Automobile (Thailand) Co.,Ltd

Injector press fit leak test machine

OTICS (Thailand) Co.,Ltd.

Cam housing underwater testing jig

Honda Atlas Cars (Pakistan) Limited

Injector leak test machine

Siam Toyota Manufacturing Co.,Ltd.

Cam shaft hole check & outer diameter measuring machine
Cam shaft transfer loader
C/h plug&ball press fitting machine
C/b plug part of leak test machine

Siam Metal Technoiogy Co.,Ltd

Cam shaft outer diameter measuring machine

Siam Aisin Co.,Ltd.

Molding machine automatic charging unloading device

Isuzu Engine Manufacturing Co.,
(Thailand)Ltd.

Crankshaft pin pressing machine

Honda Malaysia Sdn Bhd

Injector pressing machine (with pallete type)
Leak test jig for ingector leak test machine

THAI YANAGAWA Co.,Ltd.

Chain case assy leak test and press-fitting machine